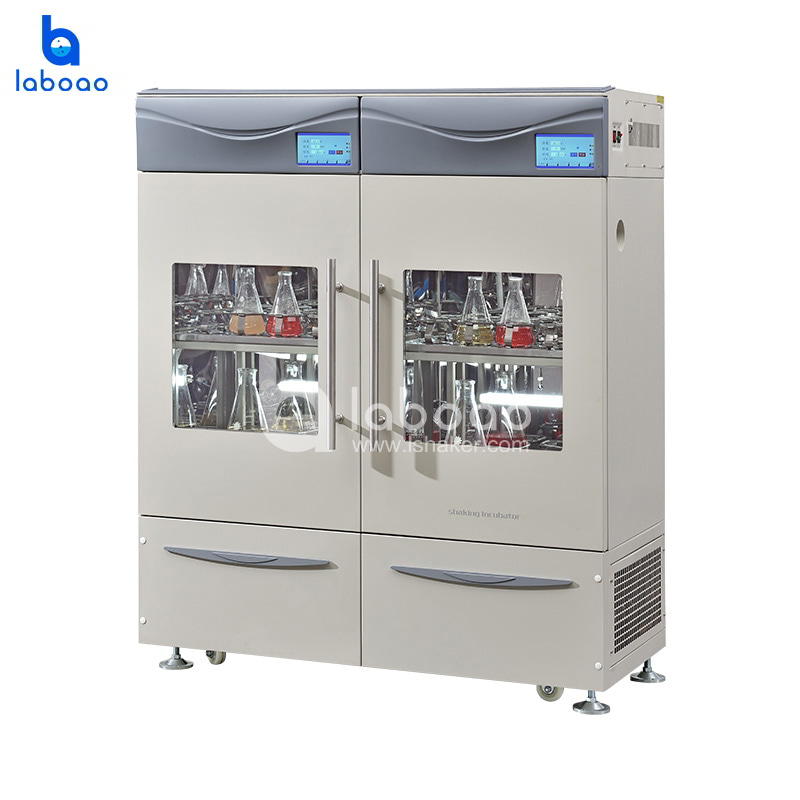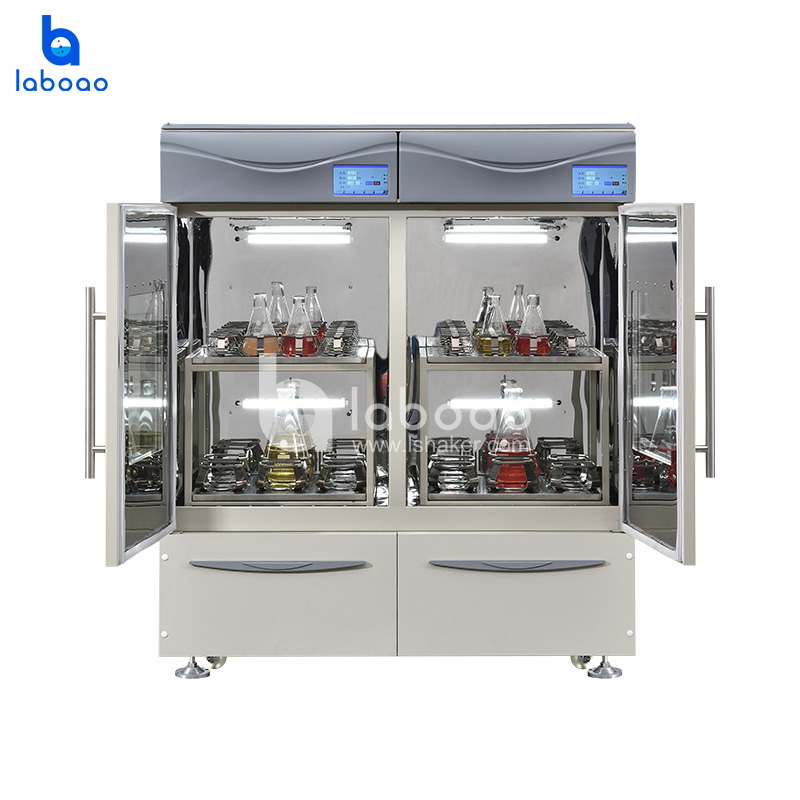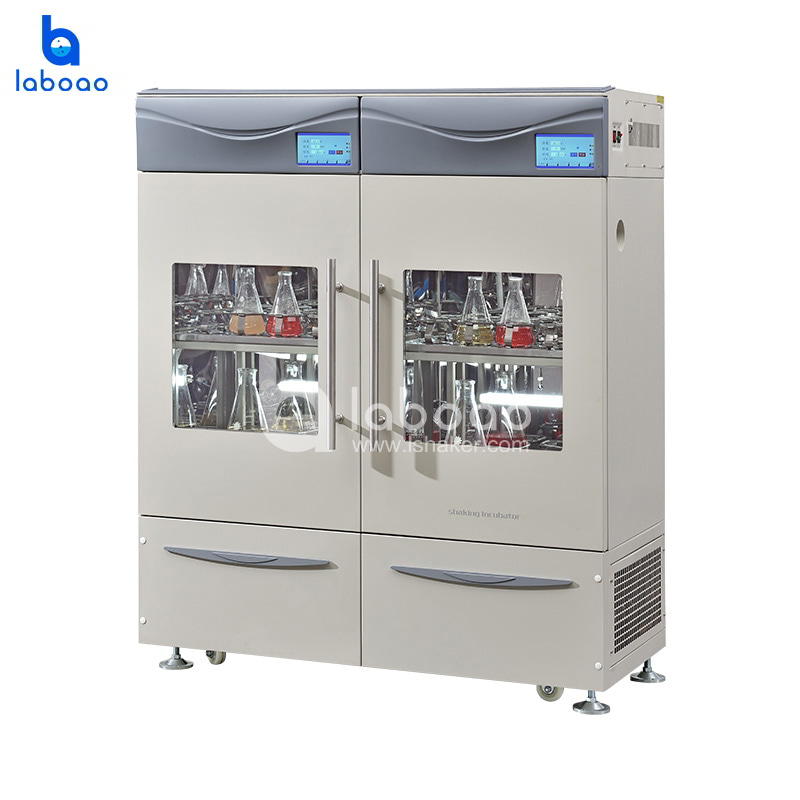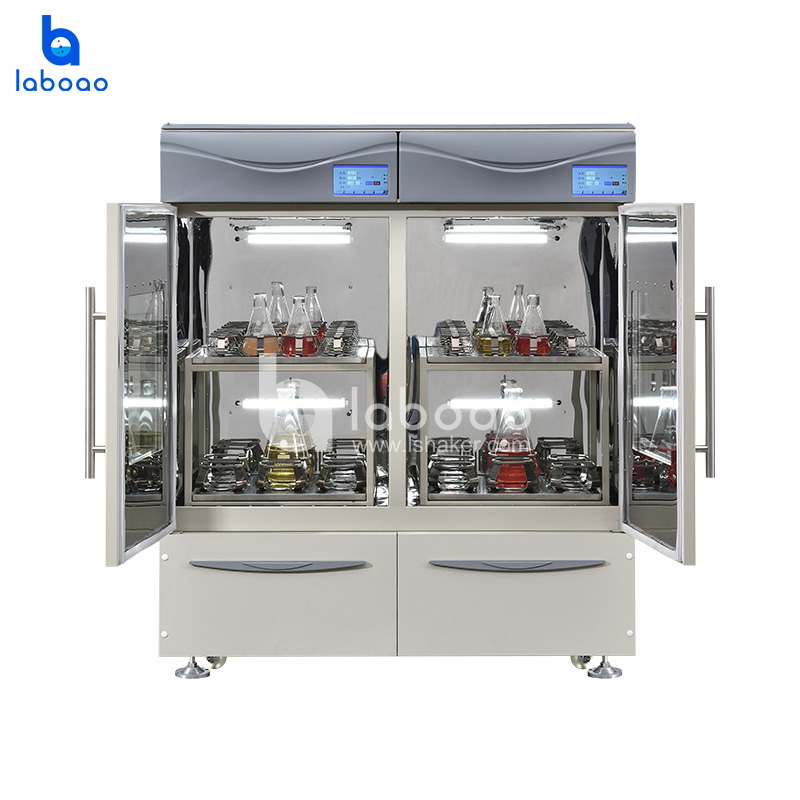 Double Row Double Control Constant Temperature Shaker
LK-2018/LK-2018R
The large capacity double-row double-control constant temperature shaker provided by LABOAO adapts to the trend of increasing sample processing capacity in modern laboratories and mass production of modern biological engineering.
Amplitude

Φ25mm

Oscillation mode

Orbital

Capacity

536L
Request Quotation
Chat Now
WhatsApp Chat

WeChat Chat
Download
VIDEO
OVERVIEW
The double-row dual-controlled shaker has a 7-inch true color touch-type touch screen and a microcomputer environment scanning processing chip, which uses a high-speed cycle to rotate the product, and has a speed storage, call recovery, parameter memory, temperature speed correction, and clock display. Light function.
FEATURES
1. Double-row dual control, international originality, patented technology.
2. Large screen 7-inch true color touch screen, icon display, easy to operate.
3. Double-layer rocking plate, large internal space can be placed up to 2000ml Erlenmeyer flask.
4. Easy to pick and place, no need to rub or squat.
5. There is no need to pull the rocking plate, no need to fix the rocking plate, and it is convenient to take and place the container.
6. The same area, the same amount of bottling, cost-effective.
7. Adjust the foot and roller up and down. Easy to transport and install.
8. Luxury machine shape, open the door to the high-end atmosphere.
9. There are two temperature ranges, constant temperature and low temperature.
10. The transparent viewing window and built-in lighting design make it easy to view samples at any time.
11. Observe the temperature, oscillation speed, and time at the same time.
Application range
Cell culture
Solubility test
Extraction experiment
Diagnostic test
Mixing samples
Bacterial suspension preparation
Dyeing and bleaching
Elution process
Hybrid experiment
Security
Leakage current and overcurrent protection systems ensure operator safety.
Over-temperature, over-speed sound and light alarm emergency control system to ensure sample safety.
SPECIFICATIONS
Model

LK-2018

LK-2018R

LK-2018-R

Control method

P.I.D(Microcomputer environment scanning micro processing chip)

Display method

7-inch true color touch screen

Convection

High speed circulation

Oscillation mode

Orbital

Drive mode

Single-axis balancing device (Chinese patent, ultra-low mute)

Studio

2

Temperature range

RT+5℃-60℃

4℃-60℃

RT+5℃-60℃/4℃-60℃

Temperature accuracy

±0.1℃

Temperature fluctuation

±0.2℃

Temperature uniformity

±1℃(at 37℃)

Security function

Upper and lower temperature deviation alarm; upper- and lower-line speed deviation alarm, independent over-temperature protector; open door stop protection; leakage protection, chiller overload protection.

Accessory function

Speed storage, call recovery, parameter memory, temperature speed correction, clock display, room temperature / measured temperature double display.

Programming function

Repeat, step, eight-segment curve programming settings.

Print function

Embedded built-in micro printer, USD interface

Rotation frequency

30-300rpm

Rotation accuracy

±1rpm

Pendulum amplitude

φ25mm

The refrigerant

-

CFC-Free (134A) fluorine-free safety refrigeration system

Cooler

-

400W

Heater

1600W

Timing range

0-999.59h/ Sustainable

Rocker size

498*460(mm)

Number of rocking plates

Four blocks

Maximum capacity

250ml*80or500ml*64or1000ml*36or 2000ml*24

Net weight

165kg

185kg

175kg

Volume

268L*2

Inner cavity size

607*506*875H

Dimensions

1350*645*1620mm (with adjustable foot/roller)

Opening method

Opening the door

Annex

Lighting, ultraviolet light

Power

1920w

2240w

2080w

Power supply

AC 200-240V 50-60HZ

Inner cavity material

All 304 high quality imported stainless steel mirror panel

Box material

High quality and high strength channel steel, angle steel, cold rolled steel plate